About Fifth Avenue Dental Clinic
Cochrane Dentists Who Care
Fifth Avenue Dental provides a full range of general and cosmetic dental services at our Cochrane clinic. Led by Dr. Barbara Kostyk and her highly trained and qualified team, Fifth Avenue Dental offers family dentistry, gum surgery, orthodontics, dental implants, wisdom teeth extractions, root canal treatment, sedation dentistry, and more. Our dental practice is dedicated to enhancing and restoring your smile. We strive to make each one of your visits comfortable in a relaxed environment.
Our modern clinic offers the latest technologies and techniques, which include the highest standard of sterilization, digital x-rays (up to 90% less radiation), CT scan (3-D imaging), intra-oral cameras, VELscope (oral cancer screening), and CEREC (one-visit crowns).
Whether you are an existing patient, a referral, or a new patient, call us at (403) 932-9660 to book an appointment today to see the Fifth Avenue Dental Clinic difference.
Your Comfort Is Our Priority
Our goal at Fifth Avenue Dental Clinic is to develop and maintain a professional, caring, and relaxing environment for our patients. Dr. Barbara Kostyk leads a remarkable team that she considers Fifth Avenue Dental's greatest asset. We are devoted to providing the highest quality of dental care. We strive to make our patients feel secure in the knowledge our clinic can attend to all of their dental needs, from regular maintenance to cosmetic dentistry. Our patients' comfort is our first priority. We are dedicated to working with you to achieve the beautiful smile you deserve.
Financing Available
To get more information on financing options please reach out to the office at (403) 932-9660.
About Dr. Barbara Kostyk, an Experienced Dentist in Cochrane, AB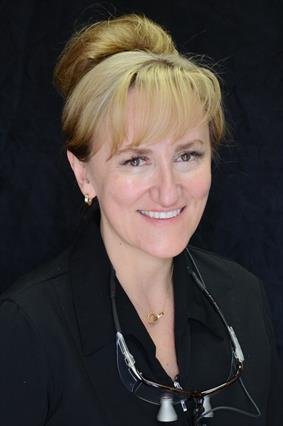 Dr. Barbara Kostyk earned her Doctor of Dental Surgery (D.D.S) degree in 1991. Dr. Kostyk practiced dentistry in Montreal, Quebec, for seven years. Later, she moved to Western Canada and practiced in both Drumheller and Calgary. In 2008, she established her own dental practice in Cochrane, Alberta.
Dr. Kostyk is passionate about dentistry. She is focused on providing the highest standard of care while incorporating advanced techniques. Dr. Kostyk is dedicated to continually expanding upon the already wide range of services that she presently provides to her patients. She frequently attends post-graduate courses on the latest techniques and innovations in dentistry. Dr. Kostyk is very progressive, continually improving herself in all aspects of dentistry with a focus on cosmetic dentistry, orthodontics, and dental implants.
Dr. Kostyk is committed to excellence in her practice through advanced clinical skills, ongoing training, and state-of-the-art technology. Her calming demeanour provides a comfortable and relaxing experience for her patients. Dr. Kostyk's attention to detail allows her to provide her patients with exceptional dental care.
Our Dental Assistant Team
The dental assistants at Fifth Avenue Dental are vital members of our team and greatly increase the efficiency of our practice. Our dental assistants are compassionate, caring, knowledgeable, and highly skilled, assisting Dr. Kostyk in a variety of dental procedures. Our dental assistants attend continuing education courses to further their advancement in the latest technologies and techniques.
Our Dental Hygienist Team
Our dental hygienists are an essential part of our dental team. The dental hygienists play a vital role in enabling patients to achieve optimal oral health that contributes to overall health and wellness. Our dental hygienists perform many services for patients. These include scaling and root planing (deep-cleaning teeth) and educating patients on oral hygiene.
Our Office Administrators
As the first line of contact, our front-end team is responsible for ensuring seemingly effortless operations of our practice. Communicating effectively with patients and clinic staff in this office requires that our office administrators be versatile in patient care, insurance processes, treatment planning, and general business procedures.
Call today at (403) 932-9660 to book an appointment with our skilled dentist in Cochrane.